Easy on the Budget Decorating Tips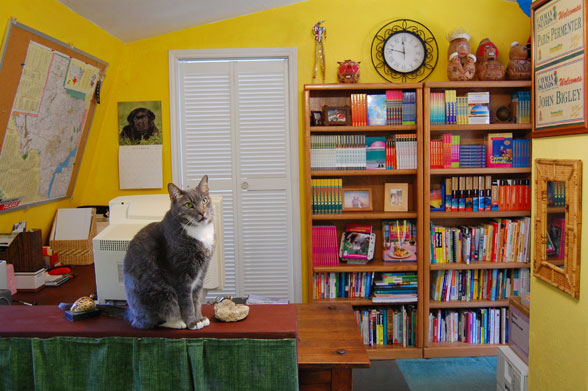 I love looking at decorating magazines and trying to picture ways I can use some of the techniques in our home…but on a budget. One big bonus of having a home that's still a work in progress is that we're free to try different things and never worry about "messing up" the decor. Through the years, we've changed the purpose of many rooms (the bathroom became a kitchen…but that's for another post), we've knocked down interior walls, and we've repainted every square inch. Here are just a few ways you can decorate your rooms on a budget:
Liven It Up with Color. Of all the decorating changes we've made in our home through the years (and there have been many), painting has been the cheapest and had some of the biggest impact. White walls can look empty and blah but, a couple of cans of paint later, your rooms can be totally transformed. My office was off white but now it's lemon yellow; even on the dreariest of days, it's a sunny place. Color can completely change the mood of a room, whether you're redoing a home office like ours, remodeling a bedroom, or decorating kids' rooms.
Think Big. When you start to decorate your walls, go big to make a statement. One big piece of artwork (in my office, I have a quilt featuring t-shirts we gathered on Caribbean writing assignments) makes a statement; if you don't have one large item to showcase, group smaller photos in similar frames. Voila…they make a bigger statement!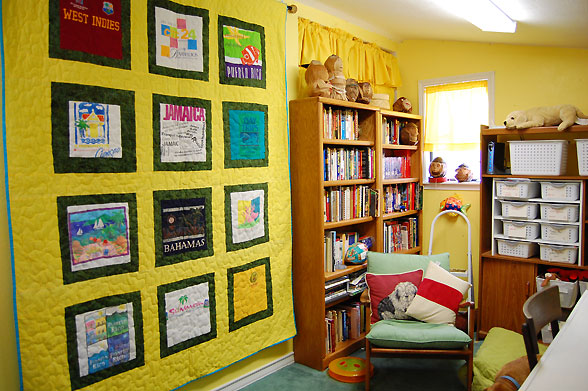 Select One Focal Point. Decorate around one focal point in each room, whether it's an exclusive piece of furniture, a fireplace, or a spectacular window with a view. Other items in the room, from accent pillows to window treatments, should enhance but not compete with that focal point. Keeping the emphasis on that focal point will prevent your room from looking too cluttered (and will save you decorating money in the process!)
Add Mirrors. I love adding mirrors to our rooms! A mirror placed opposite of a window can double your sunlight and give a real boost to the room. Mirrors are often inexpensive (I got the one below at a thrift store). The frame of the mirror can reflect the style of your room like my office's rattan mirror frame: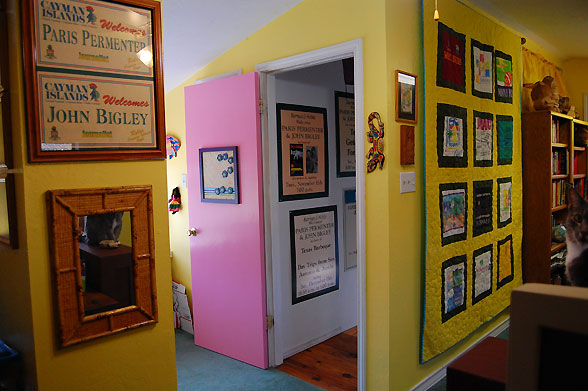 Regardless of your decorating style, you can redecorate any room in your house on a budget, allowing you to make a space that's filled with items you love and will enjoy day after day.