Dyson Housewarming Giveaway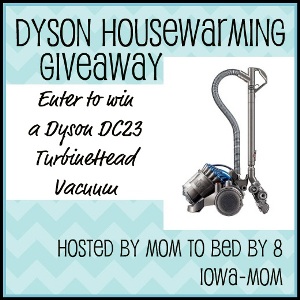 Welcome to the Dyson Housewarming Giveaway event. This took months in the making and Mom to Bed by 8, the Iowa Mom is proud to bring you this fantastic home essential and offer you the chance to win one too! Big thank you to our lovely co-hosts How to Have It All, Mark Your Savings and GiveAway Bandit.
Dyson DC23 TurbineHead Canister Vacuum
As everyone that lives in the country know (especially those, like us, that live in the country with a pack of pets), country living = dust and dirt. Last year I blamed in on our historic drought but this year the dirt factor is just about as bad. All in all, I vacuum just about every day (and could do so more frequently, to be honest!)
One of my favorite cleaning tools is our Dyson vacuum. As readers of our My Pet Allergies site know, I have asthma and allergies and I really like the Dyson because of that. This unit, the Dyson DC23 TurbineHead Canister Vacuum delivers 220 airwatts of suction power with advanced Level 3 Root Cyclone technology (no clogging or loss of suction) and it is certified asthma and allergy friendly by the Asthma and Allergy Foundation of America. The vacuum expels air that contains up to 150 times less mold and bacteria than common breathing air thanks to the HEPA filter (which can be washed throughout its lifetime, a real money-saver). Dyson's Bactisafe screen also traps and kills bacteria, mold and allergens on contact, preventing them from re-entering the air.
And, if you're short on space like we are, the Telescopic Wrap System allows the hose and wand to be compressed, and ensures that the Dyson DC23 can be stored away neatly and compactly, with no loose components or wires to get tangled. This vacuum also has a stair tool, a brush tool with long bristles to dislodge cobwebs (another joy of country living!), and a high-velocity airflow crevice tool for baseboards, picture frames and in-between furniture.
One lucky reader in this giveaway will win a Dyson DC23 TurbineHead Canister Vacuum of their own!
How to Enter
You'll find numerous ways to enter in the Rafflecopter below. This giveaway is open to readers worldwide, ages 18+. Giveaway ends on June 15, 2012.  Please use the Rafflecopter form below to enter. Good luck to all!
Disclosure: I received no compensation for this publication. My opinions are my own and may differ from those of your own. Paris and John's Country Home is not responsible for sponsor prize shipment.