Review: Gamma2 Pet Food Storage Containers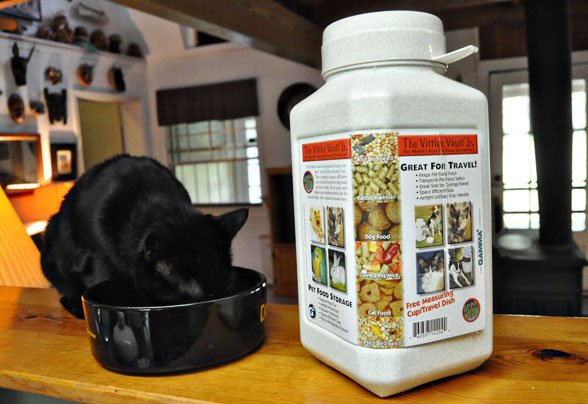 Last week, I woke up and, half asleep, walked into the kitchen to find this fellow waiting in the pet food scoop that I'd left out on the countertop: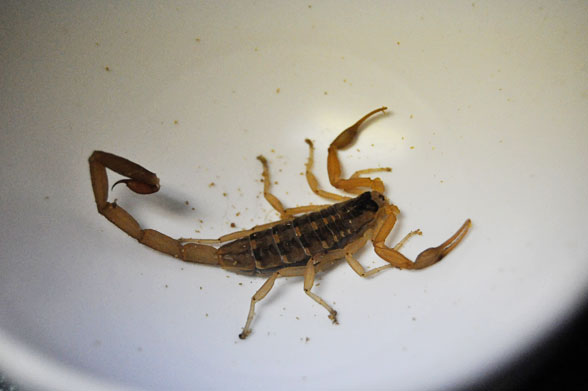 Not what you want to see first thing in the morning! Fortunately this guy was on the counter and not down in a sack of pet food (where we've found them before).
Of course, life in the country also means ants, especially this time of year. I've just started seeing them on the countertop if I don't wipe up every last trace of a crumb.
Because of this, I've been really looking for ways to keep pet food out of reach of the pests that might otherwise be encouraged to come indoors for a little dinner. Over on DogTipper and CatTipper, we've been reviewing the Vittles Vault Jr., one of a large line of pet food container products by Gamma2. We really like several features of these:
they're food-grade plastic that's BPA free
there are no dyes to worry about leaching into your pet's food
they have an air-tight closure to keep food fresh (and keep those bugs OUT)
they're all made in the USA
they all have rounded corners; if you have a problem with country mice, they can't get a bite on those round corners.
The Vittles Vault Jr. would also make a good storage solution for your bird seed, too!
We think the Vittles Vault Jr. is a well-built, safe product which will be the perfect storage solution for our pet foods!
Video:
Price: The Vittles Vault Jr. retails for about $10 – $15 from various online vendors.
For More Information:
Disclosure: We received a Vittles Vault Jr. to review; we were not paid to conduct this review and all opinions are entirely our own.