Announcing the #BarktoSchool Twitter Party!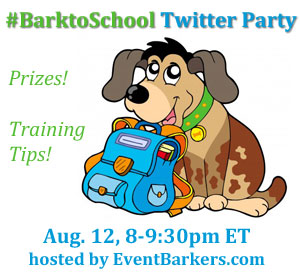 Whether you're a parent or a child, the back to school period is always a mixture of excitement, anticipation…and a little bit of worry, too. The same holds true for pet households; the change of schedule brought about by the return to school can spell trouble in some homes thanks to separation anxiety. With some pre-planning and careful management, though, the back to school transition can be a smooth one for both the two- AND the four-legged members of your home!
To celebrate the excitement of Back to School for pet families, we're co-hosting the #BarktoSchool Twitter party on August 12. From 8-9:30pm ET, this Twitter party will showcase Back to School fun and fashion for Fidos! As with our other Event Barkers events, we'll be co-hosting this event with All Things Dog Blog — plus we're also bringing some of our other sites into the fun! Watch for reviews, giveaways, and party chatter on all of our sites including from our DogTipper, CatTipper, and My Pet Allergies sites; All Things Dog Blog will also be posting from her 5 Minutes for Fido and Organic Journey Online sites.
We'll be bringing you lots more on our sponsors but, for now, it's time to call roll! The #BarktoSchool sponsors are:
Nature's Logic. You're probably familiar with Nature's Logic as well, thanks to previous giveaways on DogTipper and CatTipper! The creators of the first and only full-line kibble, canned, and raw frozen pet food in the world will be providing nutritional tips during #BarktoSchool! (Nature's Logic holds the proud distinction of being a food that has NEVER been recalled!)
Walk In Sync. Many of you know Walk in Sync and founder Alecia Evans from the "Ask Alecia" column on our DogTipper site. This holistic dog trainer will be providing expert tips on everything from training to avoiding separation anxiety.
Peggy Frezon. We announced Peggy as the winner of the blog sponsorship yesterday on DogTipper. You're probably familiar with Peggy from her Dieting with My Dog book that we reviewed earlier in the year; she's also the author of the new Heart to Heart, Hand in Paw book as well as numerous stories in Chicken Soup and other books. We look forward to learning more about Peggy and her work and sharing it with you!
Event Barkers. And, with our partner All Things Dog Blog, Event Barkers will be joining in the back to school fun, too, with plenty of prizes (and some future party announcements…stay tuned!)
Entering for Prizes
As with our other parties, the first step to winning prizes is to RSVP. We'll select one name from the RSVP list to win a prize package of sponsor goodies…plus you also must be on the RSVP list to win prizes during the #BarktoSchool party itself.
How to RSVP
RSVPing is quick and easy…just go down to the linky below and leave your Twitter handle. (If you don't have a Twitter account, visit http://twitter.com to get your free account then return here and sign up.)
Just click on "Click here to enter" at the bottom of this post and you'll see a new screen open; in the field that says "Link Title or Blog Title," just enter your Twitter handle. In the "Link" field, add the link to your Twitter account. You aren't required to add your email address but it will give us a way to notify you other than Twitter if you're a winner. (We won't use it for any other purpose.) That's it…you're entered!
RSVP and Enter Our Giveaway Below
Disclosure: #BarktoSchool sponsors are working with Event Barkers to promote their products and to provide prizes for the #BarktoSchool giveaways.