Adult- and Couples-Only Caribbean Getaways
Looking for a getaway away from the kids for a while? A place where you'll be guaranteed no Marco Polo games in the pool (at least, by no one under age 18?) A place with no crying babies in the restaurant?
An adults-only or couples-only resort just might be for you. Throughout the islands, you'll find many resorts whose clientele is limited to adults (which is definited as young as 15 at some properties, 18 at others) or couples (which might be limited to male-female couples or might include same sex couples).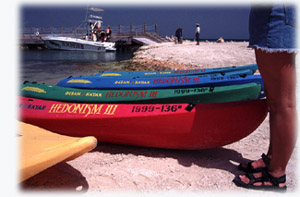 Jamaica is home to many adults-only resorts including Hedonism II and Hedonism III (both known for their "be wicked for a week" theme), Royal Plantation by Beaches (a luxurious getaway near Ocho Rios), Grand Lido Negil and Grand Lido Braco, and others.
For couples, you'll find that Jamaica's also a popular choice and home of Couples Ocho Rios, Couples Negril, Couples Swept Away, and also home of the popular Sandals chain. You'll also find Sandals properties in Antigua, Bahamas (Nassau), and St. Lucia.
We've found that many readers are curious about the most talked about aspect of many adults-only properties: clothing-optional and nude beaches. You'll find clothing optional beaches at many adults-only resorts, places where you're welcome to be as bare as you dare. Others, like Couples Ocho Rios (where the no-textile area is located on its own little island, complete with bar and pool) and Hedonism II and III, are deemed "nude" beaches, meaning that when you set foot on those beaches, it's time to shed the suit.
Apart from the resort beaches, you'll find a few other clothing-optional beaches throughout the Caribbean. The best-known is St. Martin's Orient Beach, located on the French side of the island (where topless bathing is the order of the day). The clothing-optional beach has some of the island's best watersports and is lined with bars and restaurants.