Our Magazine Work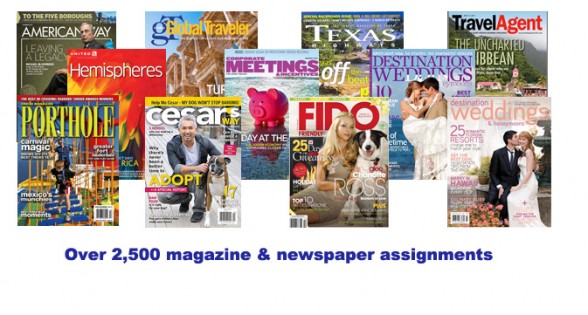 Through the years, we have written over 2,500 magazine and newspaper articles for publications ranging from Cesar's Way to American Way, Travel Agent to Reader's Digest.
Along with pet and travel articles, we've also written longtime columns for several publications including:
FIDO Friendly magazine: Since 2012, we have written the "Bowser on a Budget" column focusing on traveling with your dog on a budget.
pet360: Since 2012, we have written the weekly "Bark and Purrtect" adoption and advocacy column for this website, the sister site of petMD.
Global Traveler magazine: We wrote the monthly column on airline, hotel, and other travel loyalty programs for this magazine for over two years.
Fiesta magazine: For over a decade, we wrote a monthly column on Texas day trip travel for this former magazine of the San Antonio Express-News.
Along with traditional editorial copy, we have also produced advertorials to showcase products and destinations.