Giveaway: "The Pioneer Woman Cooks" Cookbook! CLOSED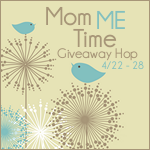 **This giveaway is closed. Out of 1407 entries, our winner is Ellen W. Congratulations!**
Welcome to the Mom ME Time Giveaway Event coordinated by The Maven of Social Media, Formula Mom, and Tales From the Nursery! This event will take place from 12:01am EST on April 22nd through 11:59pm EST on April 28th.
Whether you're looking for a gift for a special mom in your life (or you'd like to win a prize for yourself…we won't tell!), we've got a whole batch of Mother's Day giveaways to show you! We've joined in a special Mother's Day giveaway hop; every blog participating in this event will feature gifts that are perfect for giving to moms on Mother's Day. Each prize is valued at $25 or more. You'll also find some very special grand prizes!
Two lucky winners will receive (1) $100 Spa & Wellness Gift Cards by Spa Week to help pamper themselves and massage the stress away. Spa & Wellness Gift Cards are accepted at over 5,000 spa locations across North America. A third lucky winner will receive a Godiva coffee and breakfast gift basket sure to pamper their taste buds. The gift cards are open to US and Canada while the gift basket is open to US only. So be sure to enter to win the Grand Prizes!
Our Giveaway
For our giveaway, one lucky ParisandJohn.com reader will win a copy of the brand new The Pioneer Woman Cooks: Food From My Frontier cookbook!
I love Ree Drummond's food photography (and I've been visiting her blog a lot as I shoot photos for our upcoming dog treat cookbook). This new cookbook not only has photos of her recipes but also of life on the ranch, much like her first cookbook.
As a blogger and a country resident, I really enjoyed this cookbook and am looking forward to giving away a copy to one of our readers!
How to Enter
As always, we've got numerous ways to enter in the Rafflecopter below and you can enter with as many or as few entries as you like. This giveaway is open to readers in the US and Canada. The giveaway ends at 12:01am Eastern on April 29, 2012. Good luck!
More Giveaways!
Disclaimer: Please note that ParisandJohn.com, "Mom ME Time Giveaway Event" or the "Mom ME Time" bloggers are not responsible for sponsors that do not fulfill their prizes. We have represented each sponsor with the expectation they will fulfill their prize and in a timely manner. We will contact the sponsor regarding your prize(s). The sponsors, in most cases, are shipping their items to you directly. We will make every effort to assist you obtaining your prize. If there is an issue with a sponsor, please notify the blog you won a prize from within 4-6 weeks for assistance, after that we may be unable to assist you.