Follow Our Laundry Room Makeover!
We have a new renovation/makeover project coming up: our laundry room!
We hadn't planned to renovate our laundry room…then along came these two lovely ladies into our lives…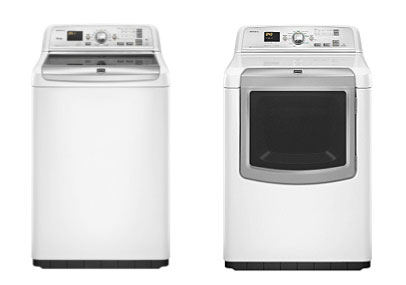 Just yesterday we learned that our DogTipper will be a new Maytag Ambassador, part of the #MaytagMoms campaign! For the next four months, we'll be writing about the Maytag Bravos XL high-efficiency top-load washer and dryer on that site. With two dogs and four cats in our house, we do a lot of laundry so it's going to be put to the test!
But here on Paris and John's Country Home, we're going to be writing about the renovation of the laundry room! Right now, the laundry room is, well, pretty sad. The room originally was a small back porch and we closed it off…with the dryer in place. The old dryer won't fit out the door so John will be removing a portion of the back of the house to get the old dryer out and the new machines in. (He constructed it with this plan in mind so it's not going to involve tearing off the back of the house or anything…I hope.)
Besides serving as a laundry room and storage place for all our cleaning products, the room also serves as home to our cats' litter boxes and storage of unused litter, too. Needless to say, this room gets a lot of use.
So please follow along as we work on our laundry room makeover! I'll be bringing you all the steps of the project. Yes, I'll get brave enough to shoot some "before" photos (brace yourself) and then I'll be writing up each step, from the paint selection (including the floor) to the reorganization. It's going to be fun!